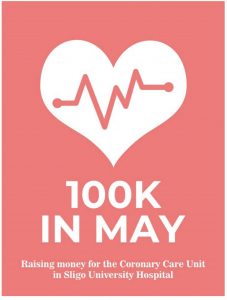 Walk, jog or run 100km over the month of May to help raise funds for the coronary care unit in Sligo University Hospital.
Sign up by joining the strava group here- https://www.strava.com/clubs/100kinmay2020?utm_source=com.whatsapp&utm_medium=referral
You can find out more information or donate on the go fund me page here- bit.ly/357Vtmg
This challenge is set up by Danielle Nolan to show her appreciation for the care she received by the coronary care unit in Sligo Hospital. Show your appreciation while getting your exercise in and raising much needed money for those at the front line.