Well done to Ailish Cornyn and the Cavan Senior Ladies who beat Down in the All Ireland Intermediate Semi Final on Saturday 31st August 2013 in Kingspan Breffni Park. The All Ireland Intermediate Final Cavan v Tipperary takes place on Sunday 29th September in Croke Park at 2pm.  
Tickets are available from the Ladies GAA Office – telephone 01 8363111 or email info@ladiesgaelic.ie 
Tickets for the Ladies All Ireland Finals will also be on sale at Kinspan Breffni Park from 8pm to 9pm on Monday 23rd, Tuesday 24th and Wednesday 25th September and in advance of the Ladies county board meeting on Thursday Sept 26th
If anybody wishes to order tickets via the club please contact Fiona McManus 087 9564377 or email secretary.shannongaels.cavan@gaa.ie by 9pm Sunday 22nd September. It will not be possible to order via the club after that time as the order must be sent in.
Ticket Prices
Adults €25
Student/Senior Citizens €10
Under 14's €8
Family Tickets also available. 2 Adults €25 each and Children €5 each
Supporting the Cavan Ladies wristbands are now on sale locally or you can contact Fiona McManus or email secretary.shannongaels.cavan@gaa.ie.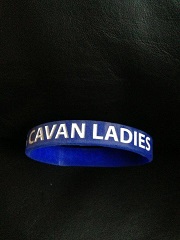 There will also be a world record attempt in Croke Park on the day which will benefit the Irish Cancer Society and Action Breast Cancer – the record is for the "Most people wearing Bandanas in one venue"  For more information and details of where you can buy bandanas click here