Junior Championship: Kildallon v Shannon Gaels at 6.30pm (note the chenge of time) on Saturday 30th August 2014 in Swanlinbar. We wish the team and management all the very best of luck. Please come and support. Shannon Gaels were the winners over Knockbride in Kingspan Breffni Park on Sunday 17th August 2014 on a scoreline of Shannon Gaels 6-13 Knockbride 0-6. View photos from the game here with thanks to Tony Griffin at www.photosofblacklion.net
Committee meeting in the Club House at 9.30pm on Monday 1st September 2014. All commitee members are asked to please attend.
Lotto Update: Next draw on Saturday 6th September 2014 in The Dug Out, Blacklion.No Jackpot Winner on 23/08/14. Numbers Drawn: 3, 4, 21 and 27. €20 Winners: Mary Catherine Feeley, Francie McManus Junior, Rose McGovern, Toam and Eddie Fitzpatrick, Dowra. Next draw on Saturday 6th September 2014 in The Dug Out, Blacklion. No Jackpot Winner on 09/08/14. Numbers drawn:6, 9, 17 and 19. €20 Winners: Joseph Maguire, Glangevlin, John Crawford, Dowra, Orla O'Hara, Blacklion and Pat Cassidy, Coolegrane.
U16 Championship: Well done to West Cavan Gaels who have reached the Division 3 Final which will take place todayThursday August 28th at 6.45pm in Kingspan Breffni Park against Sheelin Gaels/Cornafean.
Annual Fundraising Draw tickets now on sale.
Prizes include
All Ireland Football Final tickets plus accommodation in Cassidys Hotel Dublin (Saturday night),
2 nights B&B and 1 dinner in the Salthill Hotel Galway
Sunday Lunch in MacNean House & Restaurant.
€50
€50
Tickets Cost €10 each or 3 for €20 and are available from any commitee member.
Well done to Nevin O'Donnell and the Cavan Junior Team – All Ireland Champions 2014.
Cavan Junior Team Photo from Cavan County Board on Facebook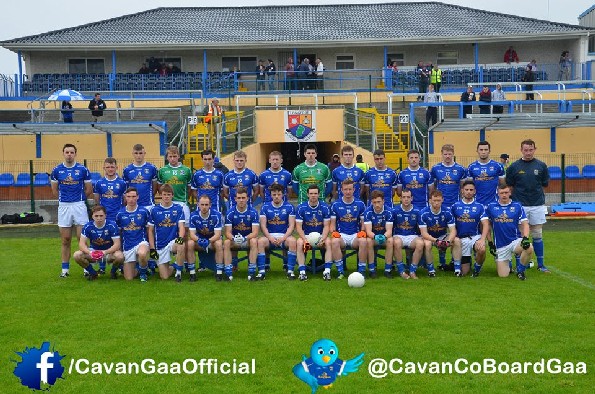 Log on to photosofblacklion.net to see photos from all the latest games with thanks to Tony Griffin