2014 League Fixtures: Corlough v Shannon Gaels in Division 3 of the ACFL will take place on Saturday 15th February at 3.30pm in Corlough. Please come along and support the team. Details of more upcoming games in February and March can be found here and on the Cavan GAA website.
Lotto: No Jackpot Winner on 25/01/14. Numbers Drawn: 9, 13, 19 & 22. €20 Winners: Eamon Murray, Brandon McKiernan, Sarah McCann and Eddie Curran. Next Draw 08/02/14 in the Melrose Inn Dowra. Jackpot €3,850.
Club Membership & Registration: Membership is now due for 2014 and it's not just for players but for anybody who wants to be a member of the GAA. All players(both adult and underage) need to register to be covered by insurance. The fees are Adults €30, Under 18's €15 and Family €75. For more information contact John Cassidy, Club Registrar on 087 2285020 or click here
GAA National Club Draw: Tickets now on sale from committee members for €10 each.  All proceeds go to the club. Great prizes to be won such as a trip for 2 to  the 2014 International Rules in Australia, All Ireland Football and Hurling Tickets, Croke Park Concert Tickets, Travel and Shopping Vouchers and a Trip to New York for St. Patrick's Day 2015. You can find more details on posters displayed locally and on the Gaa website 
National League Division 3 – Cavan v Fermanagh @ 7pm in Kingspan Breffni Park on Saturday 1st February 2014.

The McKenna Cup Final: Ulster GAA have confirmed the rescheduled Power NI Dr McKenna Cup Final between Cavan & Tyrone will take place on Wednesday 19th February at 8.00pm. Venue TBC
Next Committee Meeting at 9.30pm on Wednesday 5th February 2014 in the Club House.
The Annual General Meeting (AGM) took place on Sunday 12th January 2014 at 7pm in the Market House, Blacklion. Thank you to those who attended. The Annual Report for 2013 is available to read here.
The Joe Maguire Memorial Cup in aid of Blacklion Social Services & North West Hospice took place on St. Stephen's Day, Thursday 26/12/13 in Blacklion. Belcoo were the winners over Shannon Gaels by 2 points on the day. In the 50/50 draw Tom Leonard won the first prize of €100 and Veronica O'Donnell won the 2nd prize of €50. The match was followed by refreshments in Fitzpatrick's Bar. Thank you to all who supported this event. You can view photos of the event thanks to Tony Griffin at photosofblacklion.net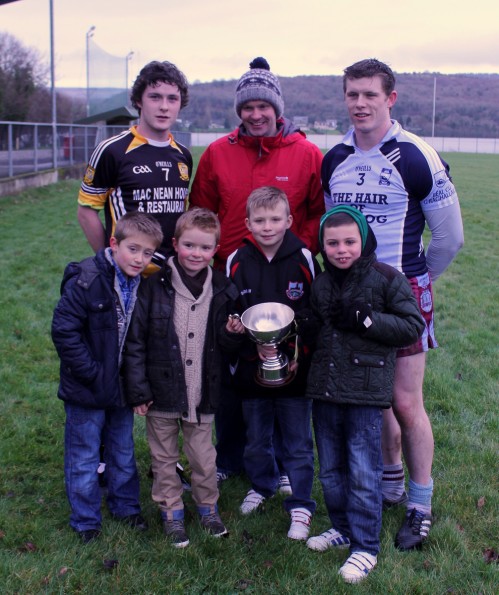 The Presentation of Medals to the Shannon Gaels Under 14 Girls Division 3 League County Champions by Killian Clarke and Aillish Cornyn took place in the Market House Blacklion on Sunday evening 8th December 2013. You can view photos from the event on photosofblacklion.net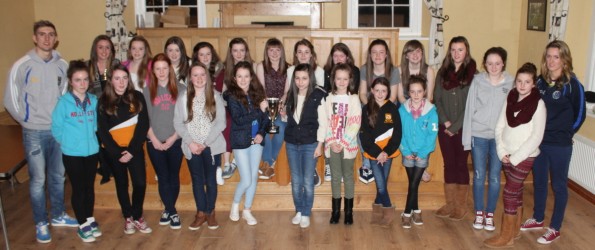 A big thank you to Vincy & Anne McGovern, Hillview Transport for sponsoring Hoodies for the League winning Under 14 Girls Team.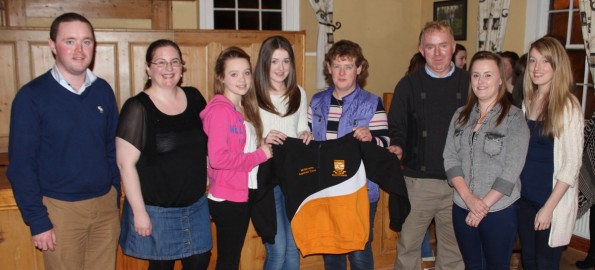 The Night at the Races took place on Sunday 29th December 2013 in the Glan Bar. A big thank you to everybody who sponsored or part sponsored races, purchased horses and supported this fundraising event by attending on the night and also to all those who assisted with organising and running the event on the night. The full list of sponsors was as follows:-
Main Sponsors
LMJ
The Glan Bar
The Bush Bar
Fitzpatricks Bar
Michael Fitzpatrick Plant Hire
The Meadow View Inn Cavan
Quinn Building Products
Bradys of Arva
AIB Manorhamillton
Belcoo Pharmacy
Manorhamilton & District Credit Union
Joint Sponsors
Frank Eddies Bar
Eugene McCann Spar
Seamus Dolan Electrical
Charlie Dolan—Dowra PO
Shuttercraft
Glenfarne Wood Products
Hilview Transport
Gilmartin Insurance