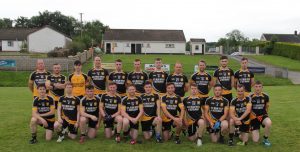 Well done to our senior team and management on the first round win of the Junior Championship against Corlough on Sunday evening last. Result Shannon Gaels 2:13 Corlough 0:13.
Round 2 is against Drumalee in Killeshandra on Saturday evening the 5th August 2017 @ 7:45pm.
Please come out and show your support for our team.
Junior Championship 2017
| Pos. | Team | P | W | L | D | F | A | Pts |
| --- | --- | --- | --- | --- | --- | --- | --- | --- |
| 1 | Shannon Gaels | 1 | 1 | 0 | 0 | 19 | 13 | 2 |
| 2 | Ballymachugh | 1 | 1 | 0 | 0 | 12 | 7 | 2 |
| 3 | Kill Shamrocks | 1 | 1 | 0 | 0 | 21 | 17 | 2 |
| 4 | Drung | 1 | 1 | 0 | 0 | 16 | 14 | 2 |
| 5 | Mountnugent | 1 | 1 | 0 | 0 | 11 | 9 | 2 |
| 6 | Maghera MacFinns GFC | 0 | 0 | 0 | 0 | 0 | 0 | 0 |
| 7 | Munterconnaught | 0 | 0 | 0 | 0 | 0 | 0 | 0 |
| 8 | Cnoc Bríde | 1 | 0 | 1 | 0 | 9 | 11 | 0 |
| 9 | Templeport St. Aidan's GAA | 1 | 0 | 1 | 0 | 14 | 16 | 0 |
| 10 | Kildallan G.A.A. Club | 1 | 0 | 1 | 0 | 17 | 21 | 0 |
| 11 | Drumalee | 1 | 0 | 1 | 0 | 7 | 12 | 0 |
| 12 | Corlough | 1 | 0 | 1 | 0 | 13 | 19 | 0 |