Merry Christmas and Happy New Year to all from Shannon Gaels GAA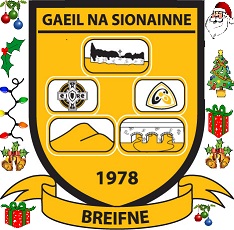 Joe Maguire Memorial Cup Shannon Gaels v MacNean All Stars in aid of the Irish Cancer Society and North West Hospice will take place @ 2pm on St. Stephen's day 26/12/14 in Blacklion and will be followed by refreshments in Fitzpatricks Bar, Blacklion. All are welcome.
GAA National Club Draw: Tickets are now on sale for the 2015 National Club Draw costing €10 each. Tickets will be available to purchase on St. Stephens Day. Fantastic prizes to be won including trips with the 2015 All Stars, a trip to New York, All Ireland Football and Hurling Final tickets as well as travel and shopping vouchers. You can view the full list of prizes here.  Each club receives an allocation of tickets to sell and also get to keep the proceeds of the tickets they sell so this is an important fudraising effort for the Club.  All tickets to be returned by 24th January 2015.   The draw takes place on 27th February 2015 at Congress. Full details of the draw are on the GAA Website. 
Lotto:No Jackpot Winner on 13/12/14. Numbers Drawn: 2, 4, 10 and 28 €20 Winners: Mary Jane Cassidy, JJ McMorrow, Paddy Lee and Chrissie McGovern. Next draw on 27/12/14 in Fitzpatrick's, Blacklion. Jackpot: €1,900. 
Night at the Races: Thank you to all those who sponsored races, bought and sold horses and supported this event in any way.
The Annual General Meeting (AGM) of the Club will take place on Friday 9th January 2015 at 8.30pm in the Market House, Blacklion.
Committee meeting on Wednesday 7th January 2015 in the Clubhouse at 9.30pm.
MacNean Ice Breakers Christmas Day Swim 2014 for the Neonatal Unit at the National Maternity Hospital -sponsorship cards available – find out more on the Macnean Icebreakers facebook page
If anyone would like to make an online donation for the MacNean Icebreakers Christmas Day swim for the neonatal unit at the national maternity hospital they can do so on this link